Principal's Report – December 2022
The conclusion to the school year is fast approaching and we have much to celebrate and reflect on in regards to our achievements and growth. Educating, guiding and nurturing a community of learners throughout a school year is an incredible accomplishment that we can sometimes forget is worth celebrating.
Last week we held our final celebrations for the Class of 2022 at the Graduation Ceremony held at the Adelaide Town Hall. It was a great opportunity to celebrate the many achievements of our graduating class of 2022, our staff and our community.  It was an opportunity for us to express our gratitude to all who have contributed to Woodville High Schools success throughout 2022.  Through the awards, prizes, presentations and performances we tried to capture a whole year of creativity, learning, growth and achievements and experienced the essence of all that makes Our Woodville such a vibrant place to be.
It was a joyous celebration of the Class of 2022 and Professor Lester Irabinna Rigney PhD, AM, gave the valedictory address titled 'We Rise by Lifting Others'. Professor Rigney spoke to students and parents as an old scholar and that his distinguished career stemmed from a "Woodville mind" with a "global future". He declared that Woodville students choose to rise above tremendous adversity, because of their resilience and commitment to support others in need. Leadership is all about service to others and finding your purpose and passion leads to success in your personal and professional life. Success comes from raising others.
We wish all our Year 12s the very best as they now await their SACE results that will be released on 19 December 2022. We also remind them that although their time as a student at Woodville High School has officially come to an end, they will always remain part of our Woodville community and family. Our Head Prefect, Perry McDonald Moult and Deputy Head Prefect, Hong Doan Le gave heartfelt final speeches as our student leaders. The incredible talents of our musicians across the School were once again on show as guests were treated to an array of genres and sounds.
The School Dux Award for Year 10, 11 and 12 were:
Year 10 DUX Charlotte Kibble
Nhien An Ngo
Jaymee Timbol
Year 11 DUX Eloise Matheson
Year 12 DUX Thi Hong Doan
I would also like to acknowledge and celebrate that all five Year 12 Music Students who applied to the University of Adelaide Music Program have received an offer.
Bachelor of Music Jazz
Jake O Connor
Michaela McDonald Moult
Anibal Araya Reyes
Sofia Menguita
Bachelor of Music Classical
We wish the Year 12s our fondest farewells as they step out of the school gates and forge a pathway in life beyond school. They now have the leadership and opportunity to make an impact on the world in their own extraordinary way. May they achieve every success in life; whatever that success means to them. As Principal to have played a part has been the greatest privilege for me and an extraordinary gift to have been part of their formation and the community that we have built together as staff and students of our Woodville.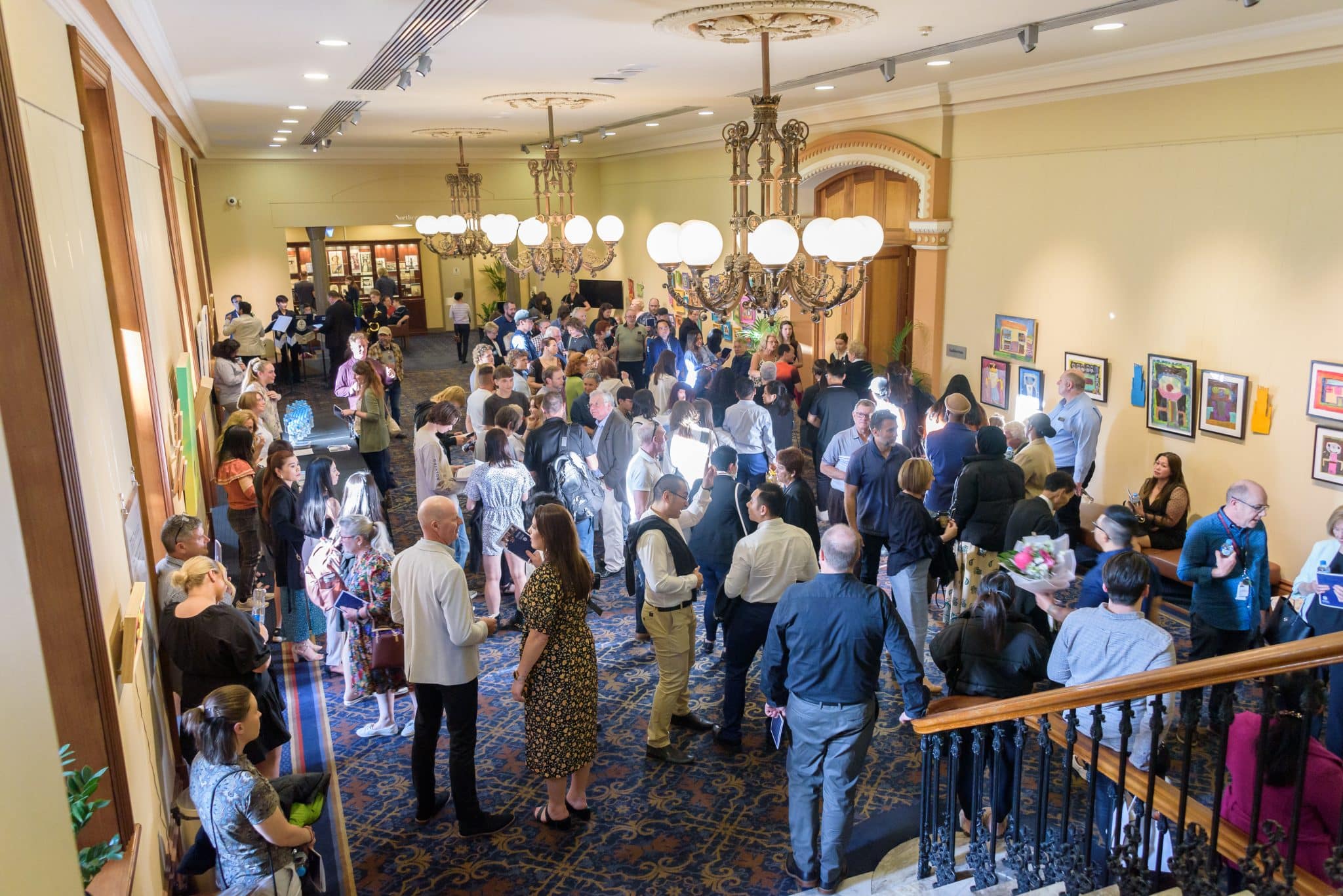 I would like to thank the staff across the school for their commitment in guiding them through their studies and creating an environment where they had the opportunity to fulfil their aspirations and achieve more than they thought possible. Thank you to the Governing Council, Old Scholars and my Education Director, Paul Newman for their stewardship and unwavering commitment to ensure Woodville High School continues to flourish and be a school of excellence and choice.
The end of the year is fast approaching with the Year 12 students and Year 11 students now finished for the school year. Year 10 students will finish on Friday 2 December (Week 7), with Year 7, 8 and 9 students finishing on Friday 16 December (Week 9) with an early dismissal at 2:20pm.
Student leadership
Our 2022 Student Leadership Team have demonstrated passion, creativity and commitment to support and reach out to others, particularly our student community. They have been the servant leaders that we asked and challenged them to be. I thank each and every leader for their authentic commitment in serving the needs of our community. They showed a commitment to serve others and were held in high respect by students and staff. They have set the bar high for best practice in student leadership and I thank each of them for their counsel, opinions and sound advice throughout the year.
Leadership is most sought and noticed in times of adversity. 2022, has continued to have been fraught with unpredictability, but we have risen to its challenges – we have adopted and adapted to change. 2022 has taught us to use our imagination, to be open to new things, it has given us opportunities, to innovate, to create, to dream, to aspire and build close connections within our community. Our students have learnt how to lead and learn in a different manner.
I want to highlight that all students have the capacity to be a leader by modelling best behaviour, applying themselves diligently to their studies, interacting positively and respectfully with others and by engaging enthusiastically and proudly in all school activities. A position and title does not teach someone how to be a leader. Leadership is an attitude, cultivated over time and I hope as part of the Woodville High School Community they all become the servant leaders our society needs.
It is our aim to provide every opportunity for students to develop leadership skills with a view to fostering not only the ability to lead but also a genuine desire to lead and serve others. When practicing leadership, we expect our students to be courageous, honest, fair-minded, just and dedicated to making a difference.
The role of Head Prefect and Deputy Prefect is significant as you not only need to uphold and promote the core values and expectations of the School but also contribute to the development of a strong school spirit through leadership and the development of inclusive relationships. It is, therefore, with great privilege that I announce the Head Prefects and Deputy Prefects for 2023:
• Senior Head Prefect – Dylan Foote
• Senior Deputy Head Prefect – Natasha Barker
• Middle Head Prefect – Thor Bonesmo
• Middle Deputy Prefect – Natasha Brice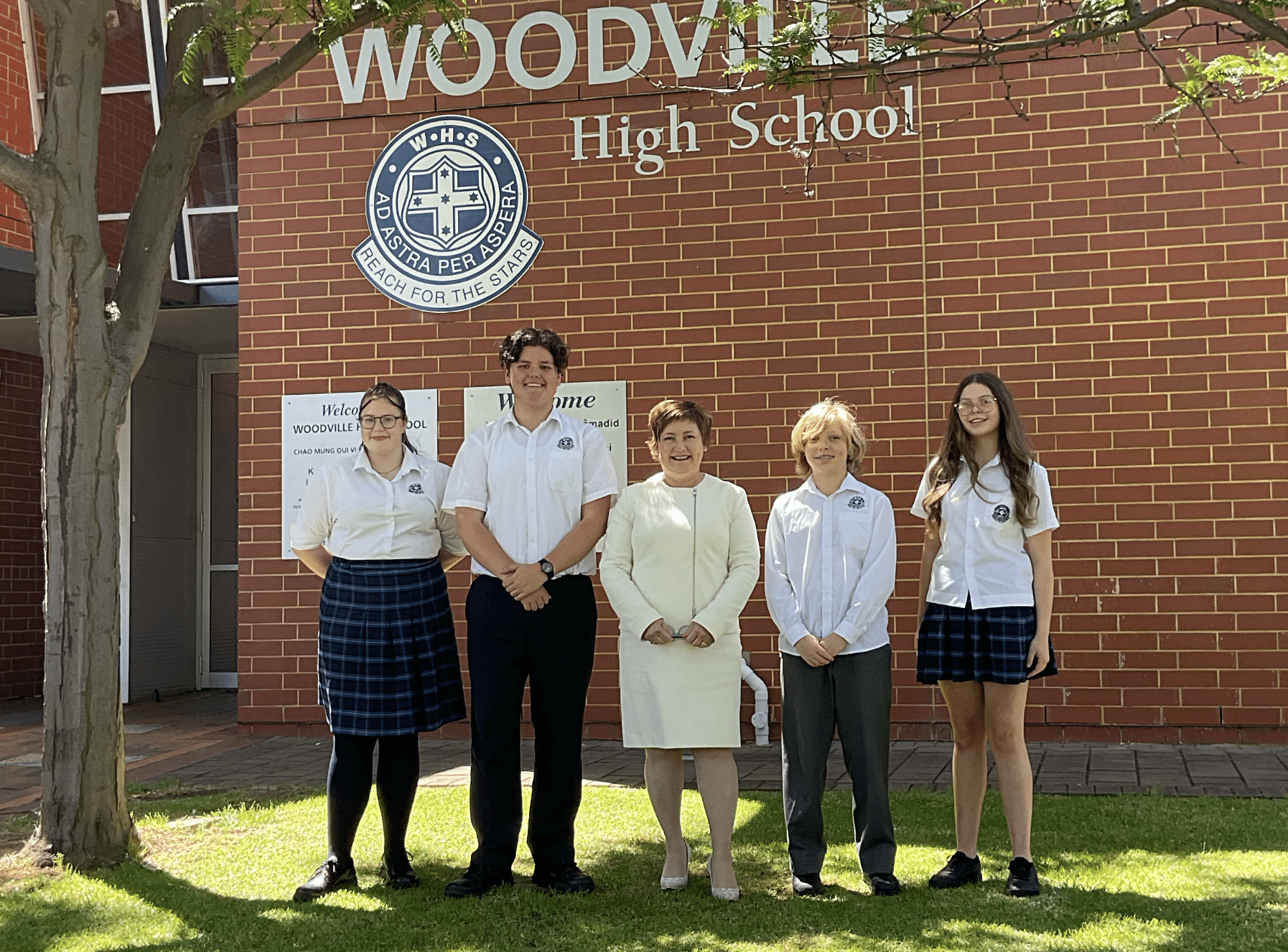 As Head Prefect and Deputy Prefect, they will lead, motivate, influence and encourage an exceptional cohort of students. As Prefects the experience that they will gain in student leadership; working with school executive, leading the portfolios, their peers, organising events, being advocates, leading change across the school through various committees and being ambassadors for the School will be great training and experience for their future leadership roles in life.
As a community we congratulate these students on their appointment and thank all the students who had the confidence and courage to apply. We are confident that the new Prefects will have what it takes to inspire the students of Our Woodville in the year ahead, to set a very high standard and hold their course with courage.
John Quincy Adam once said if your actions inspire others to dream more, learn more, do more and become more, you are a leader. I very much look forward to working with each of the leaders in their new leadership roles and nurturing their imagination to change the world for collective well-being and sustainable development.
Congratulations to the following students that have been appointed roles in student leadership for 2023:
Year 7 Portfolios:
Will be appointed at the beginning of 2023
Year 8 Portfolios 
Learning: Beth Reiger
Wellbeing: Rosa Forest
Co-Curricular: Ewan Grierson
Community: April Janzen
Global: Olivia O'Hara
Environment: Rebecca Hardy
ATSI: Marley Cameron 
Year 9 Portfolios 
Learning: Sen Heng
Wellbeing: Mora Guida
Co-Curricular: Molly Halls
Community: Riona Nguyen
Global: Nixon Duhne
Environment: Travis Fuerte
ATSI: Siarrah Sinclair
Year 10 Portfolios 
Learning: Matilda Pfluger
Wellbeing: Frankie Fielke
Co-Curricular: Cong Tran
Community: Josh Nicoll
Global: TBD
Environment: Victoria Matheson
ATSI: Pearce Schkabaryn
Year 11 Portfolios 
Learning: Delilah Howlet
Wellbeing: Nikki Chan
Co-Curricular: Sinead Wunderer
Community: Diamond Thou
Global: Alexander Kirkby
Environment: Charlotte Kibble
ATSI: Liam Norman
Year 12 Portfolios 
Learning: Kai Duncan
Wellbeing: Alicia Morrow
Co-Curricular: Grace Grierson
Community: JP Lagata
Global: Melangell Michael
Environment: Erin Godfrey
ATSI: TBD
House Leaders
Jupiter: Lyla Muir
Mercury: Charlize Mazey
Neptune: Matilda martin
Sirius: Anabelle Joffe
Music
Captain: Amber Bader-Hayes
Captain: Jordan Ng
Vice Captain: Matthew Reid
Vice Captain: Claire Tate
International
Senior Captain: Jenny Tran
ATSI
Senior Captain: TBD
All of our Student Leaders in the various Portfolios, our Captains and House Captains will be presented at the 2023 Laureate and Leadership Assembly being held on 21 February 2023.
EMS & Frog
Throughout 2022 the school has been planning for the implementation of our new Student Administration System and New Learner Management System called EMS/Frog. EMS replaces the previous DfE management system, EDSAS. It enables seamless transfer of student/sibling/family information between educational sites as well as modernising the finance and business responsibilities of the school. Frog is a collaborative learning space for staff, students, governing council and parents/caregivers. It is a space to communicate, share information and resources in relation to school improvement, wellbeing, timetabling, curriculum, assessment, progress and reporting.
All staff will undertake EMS training focussed on the Teacher Toolkit module on Wednesday of Week 7 in preparation for our transition to the new EMS in 2023. Through this training they will gain insight and knowledge into the Teacher Toolkit program which is responsible for the marking of attendance, reporting functions and other administrative duties. Jane Logan and Sam Tuffnell have been supporting staff through targeted sessions and weekly release times to upskill and support them in developing their learning spaces in Frog. We have engaged in student consultation and our student leaders have been working with Jane Logan, Frog LMS Implementation Specialist from the Department for Education.
We would also like to create a community focus group to provide feedback on the parent and community portal in Frog early in Term 1 2023. We are committed to improving our communication with families and invite you to email Sam Tuffnell our Senior Leader to indicate your interest in supporting our school community in strengthening our partnerships with families: sam.tuffnell65@schools.sa.edu.au
This is an exciting time in the digital landscape for the school. The features of EMS/Frog will allow us to begin a journey into continuous reporting, digitised curriculum design, increased communication and greater accessibility to student data. The goal of the system is to minimise administration and repetitive tasks that are required of the current systems and is designed to continually evolve as schools require greater functionality.
Growth Coaching
The Executive Team is undertaking a two day Growth Coaching Course to strengthen understanding, develop skills and knowledge of effective coaching frameworks, strategies and practices to engage in professional conversations with staff that empower and develop those whom we lead.
The initial focus of this professional learning is focused on developing a shared understanding of the coaching process and skills required to lead conversations, facilitating growth and development. Further to this, I am committed to developing the capacity of the school's leaders to be able to lead coaching conversations with individuals in their respective teams. When leaders have the skills and tools of coaching and feedback, they can build the capacity of all staff to engage in high quality, solutions focused conversations that lead to self-directed thinking and planning. This professional learning will also benefit all staff personally and professionally. Developing a shared and embedded coaching culture in the way staff approach conversations with one another will lead to strengthening respectful relationships.
Walking alongside Year 11 Student Liam Norman
On the 11 November I spent the day shadowing a Year 10 Student, Liam Norman. I experienced the school through the eyes of a student by using all of the senses to focus on details that might otherwise get overlooked. It is an exercise in empathy. It is about feeling what it is like to live as this student does every day at school. It is to better understand, engage and inspire our students and support the staff with challenges that may often go missed. I will be doing this with different year levels and different cohorts of students to understand the quality of interactions, engagement, learning spaces and challenges faced by students throughout the day. I will capture my observations using notes, photographs and will share these initially with the teachers and students I interact with to reflect on our observations, question them, and find opportunities for school improvement. I will try to capture moments in the voice of the student.
I will share my reflections with staff, the schools governing council and student leaders so that together we can find meaningful opportunities to improve the experience for students, and take insight-driven action to create change and redesign school culture.
I am looking forward to connecting with the students, teachers and the curriculum from a new perspective.
The following staff warmly welcomed me into their classes. I truly enjoyed the experience and was impressed with the commitment of staff to meet the diverse learning needs of students in the class.
Hieu Nguyen
Dan Thanh Ho
Megha Megha
Jennifer Maitland
Jonathan Mitroussis
I will be shadowing different cohorts of students and will continue this in 2023.
As we come to the final weeks of this incredible year, I reflect on the year that has been, and it is clear that at the heart of every moment throughout the year has been my unshakable knowledge that it is an extraordinary gift to be part of this community. In 2022, together we have thrived and watched our school grow and flourish. We want our Woodville to continue to be a place of where everyone feels a sense of belonging, where they feel acceptance, respect, inclusion and support in a learning environment. Where every student is seen, is valued and knows their worth. Where all relationships are defined by understanding, respect and love. 
I wish everyone a safe and happy holiday season.
Anna Mirasgentis
Principal