School Captain's Student Leadership Charter Review
In Term 1, the School Captains, pitched the Student Leadership Charter to the Student Voice Committee. The Student Leadership Charter envisions what we want to accomplish as Student Leaders with our school initiatives and service to our community. We want to be able to recognise our objectives based on our community and take strategic action on what we can improve on. The charter also represents our roles and guiding principles that we as leaders will model with excellence.
The review sessions were separated between year levels, senior years, middle years and the Year 8's due to the sheer amount of their representatives. Our first session was conducted with the Year 12 and 11 Student Voice along with our Year 11 Peer Leaders. Our second session was with the Year 10 and 9 Student Voice and the final two sessions were with Year 8 students.
The sessions were split into two parts. The first part of the session consisted of the captains reviewing the charter and discussing its purpose and intention. This was followed up with dividing the students into small groups facilitated by a School Captain where they brainstormed to discuss what they already do well as Student leaders in our community, and what they can improve in each of the guiding principles. Collaboratively students also raised additional requests regarding the improvement of student learning, building strong and respectful relationships between students and teachers and others.
An observation with the Year 8 Student Voice was that, they lacked experience in this style of leadership and the role was significantly new to most of them. Some had no prior experience in student voice from their primary school. We learnt that there needs to be more awareness of leadership roles to Year 8 is as they transition into the high school setting, preparing them for their years ahead. Although not having a lot of leadership experience, they were keen to learn more about leadership and opportunities of where it could take them in the future.
All the year levels agreed that the Student Leadership Charter was significant and embodied their vision for leadership at Woodville High School. We noticed that the leadership charter was a bit difficult to grasp for the students of the younger year levels but with support they were able to make suggestions about improvements they could lead within our school to improve culture and each principle in the Leadership Charter.
With the feedback of improvements collated, a report was written and presented to the Principal, Mrs Mirasgentis, and this Leadership Charter was then taken to the Governing Council for ratification. With the feedback received there were improvements suggested to the Leadership Charter that was undertaken to make the charter more student friendly and much more goal oriented. With the changes finalised, we are proud to present the Student Leadership Charter for the academic year of 2021.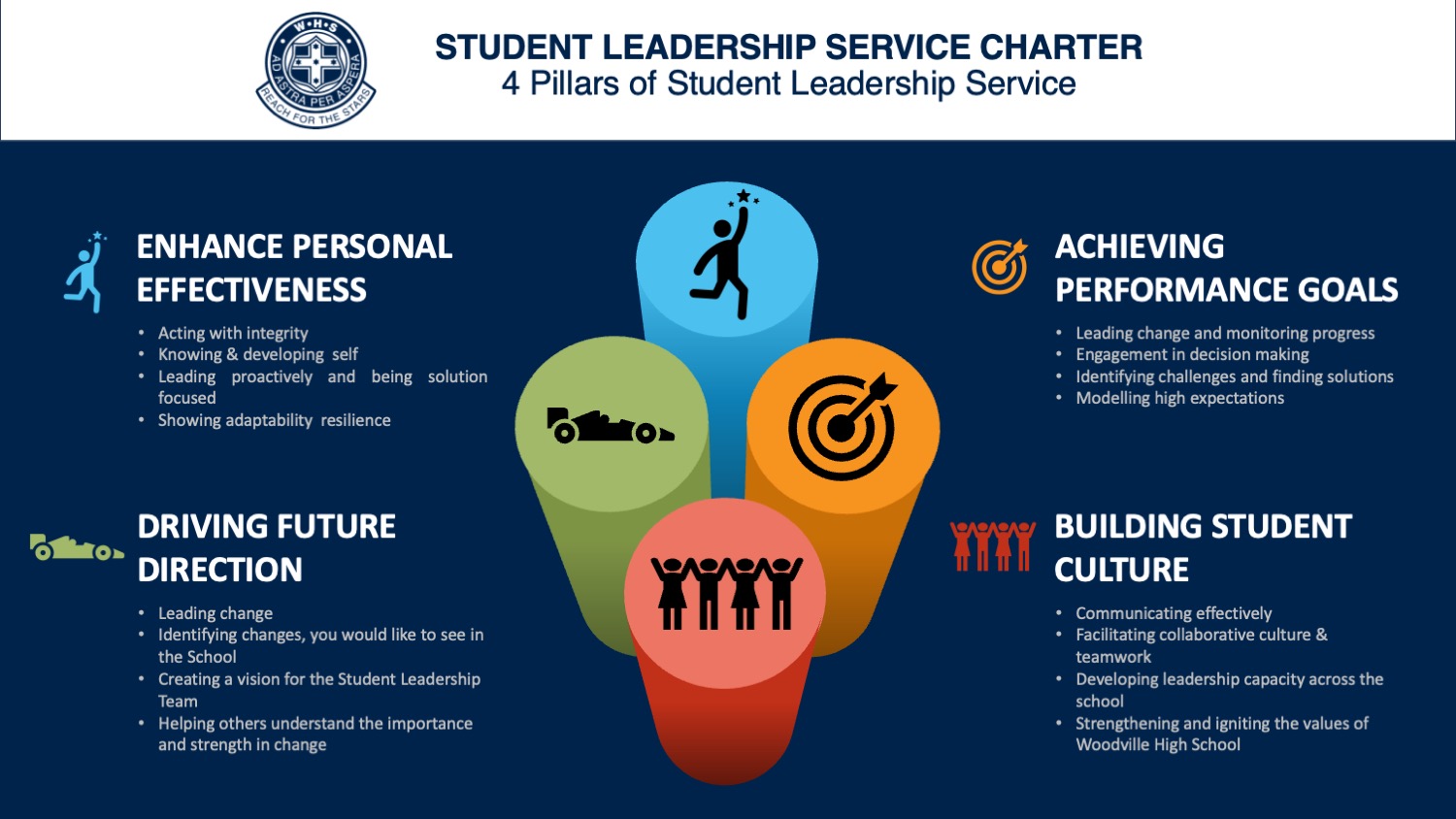 Written by School Captains, Sudarshan Kabbinahittalu in conjunction with Dang Vy Anh Nguyen.