SACE, University and Exams Update
SACE Information Evening
In preparation for subject and course selection for 2022, many parents and students attended the SACE, VET & Careers Information Evening. They were very positive about the opportunity to hear the information presented about SACE and the direction of careers and the world of work for their children beyond school. Our Flexible Industry Pathways partners – Australian Nursing and Midwifery Education Centre, Independent Institute, MADEC and TAFE SA presented on the four Vocational Education and Training packages to be offered at WHS next year: Aged Care and Disability, Building and Construction, Horticulture and Food Processing. We are grateful for the ongoing support we enjoy from our partners and the opportunities they provide for our students. Amelia Daw provided an overview of TAFE courses.
University and TAFE Information Evening
Year 12 students and their families very much appreciated the opportunity to hear from presenters from the University of Adelaide, UniSA and Flinders University. They were able to collect materials and speak with the uni representatives after the presentations and many gained a clearer direction for their SATAC applications and university and TAFE pathways beyond school.
Events such as these cannot happen without a committed Senior team willing to give their own time for our students and their families. In addition, we are grateful for the ongoing support provided to families by our Bi-lingual Support Officer, Tin Le, and DfE interpreter Mirsada Fenn, and to our Student Career Ambassadors, and ex-student Taylor Giatrakis, who welcomed families at both events.
Thanks must also go to the Year 12 Mentor team who have worked 1:1 with our Year 12s to guide them with their TAFE and university SATAC applications (due on the 30th September 2021), and to support them in planning for their future courses and areas of further education and training.
Flinders University, UniSA, and The University of Adelaide will also spend the day each in Lower Penny conducting appointments with Year 12 students on the Academic Review Day on Wednesday 8 September. The school values its partnerships with the universities and we are grateful for the extra time and effort they make to support our students in their decision making at this important time in their lives.
SACE results and preferred names
Students and parents should be aware that final SACE Certificates are issued to students in the name under which they have been registered for SACE. Where a preferred name has been used, rather than the name on a birth certificate, or the name on the birth certificate is not in the preferred order, it can create problems in the future, particularly when applying for university entry or work interstate or overseas. It can also be time consuming to correct. Students are urged to check their name and address details on Students Online on the SACE Board website as the deadline for correction of student names and addresses is fast approaching. They will need to see Ms Ahrens or Mr Sharp if they wish to correct their details.
Year 12 Tutoring Programs
The 24/7 Online Tutoring program, Studiosity, was launched for Year 12 students via a webinar on Thursday 26 August. Our Year 12 students will benefit enormously by the early roll out, in time for final Investigation drafts, and exam revision and preparation.
Tarik Habibovic
Brilliant ex-student, Tarik Habibovic, has begun tutoring small groups in Maths and Physics on Thursday afternoons in Lower Penny. Sign-up sheets are posted in Lower Penny each week.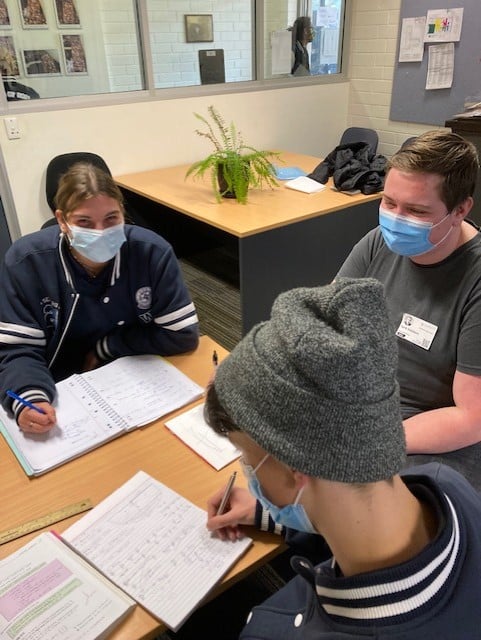 SATAC/TAFE Applications
Mentor teachers are currently exploring TAFE and university options with their mentees and supporting them through the SATAC application process. Applications at the cheaper rate close on 30 September. In informal conversations, please advise students in your subject areas about further education and training options and reinforce related Learning Area videos and Course Book further study references.
Year 11 Entry
Entry to university based on Year 11 results is now available through the University of Adelaide and Flinders University. Year 12 students have been encouraged to apply but we have explained to them that there are now many ways to get into university.

These include:
Australian Tertiary Admission Rank (ATAR)
Alternative Entry, based on Year 11 results (University of Adelaide, Flinders)
Alternative Entry, based on Year 12 results (UniSA)
Subject Based Entry (Flinders University, UniSA, University of Adelaide)
UniTest (Flinders University)
Portfolio (Flinders University)
Special Tertiary Admissions Test (STAT)
Foundation Studies (UniSA, Flinders University)
VET (Certificate lV or Diploma)

Year 12 Electronic Exams
Practice exams are set to occur in preparation for the electronic examinations in four Year 12 subjects. The activities are reflective of what students will experience in their final exam and will help them feel confident in the e-exams system. They include:
instructional videos
a key features summary
a subject-specific exam experience
an opportunity for students to provide feedback on the e-exam experience
Friday 27 August – Psychology – 9:00 – 11:00 am (Michell)
Tuesday 31 August – English Literary Studies – 1:30 – 3:30pm (Portellos)
Thursday 2 September – Nutrition – 9:00-11:00 am (Gent) P25
Thursday 2 September – Psychology – 9:00-11:00am (Hicks) J32
Monday 6 September – Biology – 9:00-11:00 am (Tuffnell) P25
Senior School End of Year Examinations
Year 12 Trial Examinations
Monday 18 – Wednesday 20 October (Week 2)
For all subjects that have an examination
Year 12 Final Examinations
Tuesday 2 November – Monday 15 November (see schedule on school website)
Year 11 Examinations
Monday 15 – Thursday 19 November
Year 10 Examinations
Monday 22 – Wednesday 24 November