Principal's Report – July 2023
As we journey together towards the end of term, I want to thank all staff, students and families for their support this semester in celebrating our achievements, whether it is in the classroom, on the sporting field, on stage, in service to our community or in shaping the changes at Woodville High School to become a school of choice and excellence. This commitment requires dedication, determination, hard work and a relentless approach towards achieving the very highest standards. What unites us is our common purpose and that is to give young people the intellectual and emotional tools to thrive and live productive and fulfilling lives.
This term has seen students from across Our Woodville participate in an extraordinary number of curricular and co-curricular activities, through which they have demonstrated outstanding levels of engagement, creativity and resilience, all of which would not have been possible without the generous support of parents/caregivers and school staff. Below are some highlights of the term:
2024 – 2026 Strategic Plan Update
Our Woodville has participated in a series of workshops as part of our strategic design process. We assembled a co-design group with students, educators, parents and old scholars who are leading this courageous discourse to set a clear path for our school community against a rapidly changing societal landscape. It was wonderful to see all staff collectively engaging to honour the past and imagine the future of our school. We looked at possibilities, the progress we have made and our aspirations for the future of Woodville High School.
The strategic planning process is creating opportunities for teachers, students, parents, and other members of the school community to become leaders and decision makers as we work together to build on the culture of our school that is based on coherence, collaboration, shared leadership and decision making. Our 2024-2026 Strategic Plan will capture the hearts and minds of everyone in our community, providing a vision and purpose for a school that has been transforming itself since 1915. Our engagement in strategic planning can help us harness education as a power to change the world. Without a plan a vision is simply a dream. We need our vision and guiding statements to excite, inspire and be actionable. The Strategic plan will inspire and unite our school community, keeping focus on what matters while supporting teachers and students to shape the future they want as change agents in a rapidly changing world. At the heart of the Plan is our commitment to inspiring and equipping our students to embrace whatever challenges and opportunities the future presents. Woodville High School will be launching the Strategic Plan in September 2023.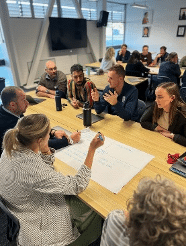 Refugee Week – Book Launch "Reading Between the Lines"
During Refugee Week, we were committed to capturing the unique and personal narrative of Our Woodville students from refugee backgrounds. Each migrant and refugee carries their own unspoken history: stories of struggle and survival in a world of incomprehensible violence, upheaval and hope.
The book is a compilation of personal stories written by students who have experienced displacement, war, poverty and struggle. It is a collage of all those personal stories and the incredible resilience and strength of the people within them as they struggle to redefine home. One of the great powers of storytelling is that it invites us to walk in other people's shoes for a while, but perhaps even more importantly, it invites us to contemplate our own shoes and the road we have travelled to form our own personal and cultural identity.
I am now proud to announce that with the expertise of local Design Company 4RT we have celebrated and launched the book titled Reading Between the Lines during this year's Refugee Week. You can access a Copy here.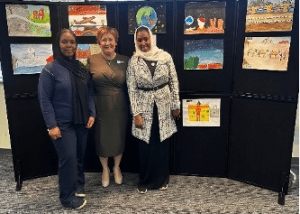 Arts Spectacular
This is the second musical I have had the privilege to witness as Principal of Woodville High School. I was filled with many moments of pride for both the students and staff as I watched our students perform confidently and with great professionalism in the School Musical, Once Upon a Fallen Star. I was in awe of their talent and it is important that we acknowledge the significant amount of time and effort that students, parents and staff committed to ensure the musical was a success and a wonderful experience for the audience. It was obvious students were part of a collaborative team that animated our school motto and core values. Throughout the rehearsals and performances students demonstrated commitment, time management, creativity, imagination, compassion, perseverance and skills in problem solving. The involvement of so many students in the school musical builds confidence, allows for greater self- expression, promotes interpersonal skills such as empathy and compassion and strengthens the sense of community in the school.
Primary School Visits
During Week 9, a group of Our Woodville students paid a visit to Allenby Gardens, Brompton and Woodville Gardens Primary Schools. The aim of the visit was to introduce our collaborative art projects and conduct workshops. In total, our students worked together with around 100 students across the three sites.
I am proud of the incredible achievements of these students and the opportunity to showcase the talents, passion and dedication of our students.
SA Refugee Week – Youth Poster Awards Exhibition
Congratulations to two of our Year 10 Students, Alexandra who received a Certificate of Commendation for 3rd place and to Nichola who received a Certificate of Participation in the Secondary School Awards at the SA Refugee Week Youth Poster Awards Exhibition. We are so proud of their achievements! Their artwork will be framed and will tour across Australia!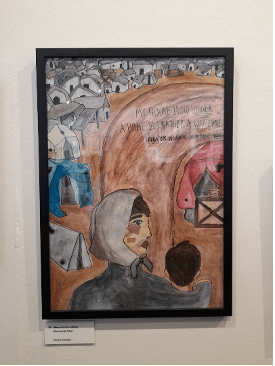 NAIDOC Week
National NAIDOC Week celebrations are held across Australia in the first week of July each year (Sunday to Sunday), to celebrate and recognise the history, culture and achievements of Aboriginal and Torres Strait Islander peoples. NAIDOC Week is an opportunity for all Australians to learn about First Nations cultures and histories and participate in celebrations of the oldest, continuous living cultures on earth. This year's NAIDOC theme 'For Our Elders', is an opportunity for all Australian schools to ensure our young people are learning from our elders' knowledge and perspectives, and that these continue to be passed down through generations for millennia to come.
When we stand together as a community, acknowledge, and celebrate our whole history, we can then build a society with respect for Aboriginal and Torres Strait Islander culture and identity at its heart. We can find a way forward together, so I encourage you to join in celebrating our First Nations communities for what they are – the custodians of Country, who are knowledgeable, proud and spiritually connected to place. We draw strength from their knowledge and experience, in everything from land management, cultural knowledge to justice and human rights. Across multiple sectors like health, education, the arts, politics and everything in between, they have set the many courses we follow. The equality we continue to fight for is found in their fight. Their tenacity and strength have carried the survival of the Aboriginal and Torres Strait Islander people.
It is important for young people to understand that we do not need to assimilate into one culture in preference over others. Diversity is a great thing, and our society can only benefit from a range of world views and experiences.
Project Nova
Year 7 Project Nova establishes strong foundations of inquiry, academic self-efficacy, critical and creative thinking, collaboration, communication and entrepreneurship. During Project Nova, students engage in authentic 21st Century integrated learning, driven by a Project- Based Learning approach. Each term focuses on a different contemporary theme with student agency driving the inquiry focus. Term 2 theme was People X and was focussed on Health and Wellbeing. Working alongside Nicole Dyson and her team of mentors from Future Anything was inspirational as students ideated and prototyped their ideas.
On Wednesday 28 June our Learning Hub was transformed into an ideas expo where Year 7 students promoted their innovative solutions for how to make the world 'healthier, happier and more equitable for all'.
This was a fantastic opportunity for our students to showcase their learning and solution development to an authentic audience. We were thrilled to welcome many parents, grandparents, Governing Council and community members to share the students' entrepreneurs odyssey. It was also wonderful to have students and teachers from Woodville Gardens and Kilkenny Primary schools attend.
During the showcase sessions visitors voted for the ideas they were most inspired by and in the afternoon session the three teams with the most votes were asked to step up and present their 'pitch' to an audience of over 200! The pitches were judged by our panel of experts: Principal Anna Mirasgentis, Deputy Principal Luke Smith as well as the business mentors we have been working with throughout the term; Alexis Kuchel and Alex Bruhn. Our winning team was of Ava O and Lilly W from Mr Gramp's class, who presented their solution 'A Helping Roar' which provides online support to teens with mental health concerns. Lily and Ava, along with our other top 3 finalists will now have the chance to further develop their ideas and work towards sharing their solutions on a national stage at the Future Anything Activate National Competition!
Congratulations to all Year 7 students for their incredible work across Term 2 in Project Nova and thank you to all of the staff and community members who supported the students to bring their ideas to life.
Our Woodville's young entrepreneurs have a bright future ahead of them!
Reports
On the last day of Term 2/Semester 1 Reports will be released and this gives families the opportunity to convene with their children and discuss their progress and achievement. It is important to encourage students to lead the conversation about their successes, challenges and opportunities. Wednesday, 30 August is an opportunity for parents/caregivers to book times with teachers to gain further insights into the academic and pastoral progress of their children.
On the last day of school, students will be dismissed at 2.30pm. If your child is absent, reports can be collected from the Front Office during the school holidays. Digital copies of reports will be available via the Frog Parent Portal from Monday 10 July.
It has been an extremely busy Semester and I wish both staff and students a well-deserved break. The numerous highlights this semester reflect the diversity of curriculum and co-curricular opportunities and are a reflection on the people who make up our wonderful community.
2024 Curriculum Handbook
The Course Counselling process for the 2024 subject selections will begin in Week 1 next term. Information will be shared with students at their 'Welcome Back Assembly' on Day 1 and a letter will be distributed early next term.
The 2024 Curriculum Handbook is now available to support the Course Counselling process. The Handbook outlines the Curriculum from Year 7 – 12 and is designed to support students and their families to make informed decisions when selecting subjects, to ensure students have a wide range of post-school options. The Handbook includes descriptions detailing the content and the assessment requirements of each subject. It is important that students, with the support of their families, begin to plan possible career pathways of study.
Year 12 Students
For our Year 12 students the semester break should be a time when they have a break from the routine of attending school, but I encourage them to maintain their regular study routine during the holidays in preparation for assessment tasks and final year exams. The feedback from their mid-year examinations should inform their revision program to improve their knowledge, understanding and application of skills and concepts.
Thank you
As we commence the mid-year break, I thank all families for your support of the School in what has been a busy Semester. I wish you and your family a restful break and I hope you have the opportunity to spend some valuable time with friends and loved ones. I look forward to seeing everyone back next term.
I trust and hope that all students return to the school with renewed energy and focus for another productive semester. Term 3 for students commences on Monday 24 July 2023.