Deputy Principal Report – June 2023
Term 1 finished positively at the end of Week 11, with a shorter week due to the Easter Public Holiday. Year 10 students completed their Work Experience while the other year levels progressed into the Term 2 assessment window. Despite the shorter timeframe for preparing our Term 1 reports due to easter, Term 1 reports were handed to students on the last day of term and uploaded onto Frog for the first time for students, staff and families to access. Term 1 also welcomed the first ever report for Year 7 subject Project Nova, which reported on the students' development of seven capabilities from their collaborative work throughout the first term. The Project Nova reports were also updated to Frog.
Term 2 is now underway with a difference…. No mobile phones. Students and staff have done a wonderful job adapting to life with Yondr pouches instead of the distractions of mobile phones. On Day 1, students were excited to receive their Yondr pouch and to learn how to open and lock the pouch using our new unlocking stations placed strategically around the school. It will be important that students, staff and families continue to follow the new Mobile Phone Policy to make sure we have a consistent approach across the school to meet the Governments expectations of no phones in schools by the start of Term 3.
The first Parent/Student/Teacher Evening for the year was held on Wednesday of Week 1. This was an opportunity for students and their families to sit with their teacher(s) to reflect on their progress and growth in Term 1 and to see what improvements can be made moving forward. The event was supported by student leaders, SSO's and all teachers. The event was well attended by students and families with one of the largest gatherings since pre-COVID-19. There has been lots of positive feedback about the evening from the families and the teachers involved. Our second Parent/Student/Teacher Conferences will occur on Wednesday 30 August (Week 6, Term 3) where we will collapse the timetable for the day to trial a full-day Parent/Student/Teacher Conference. This was approved by the Governing Council in 2022 to see if we can improve the participation of students and families meeting with the subject and home group teachers to discuss student's achievement and growth. This will be a trial to see which model is most effective to inform our structure for 2024.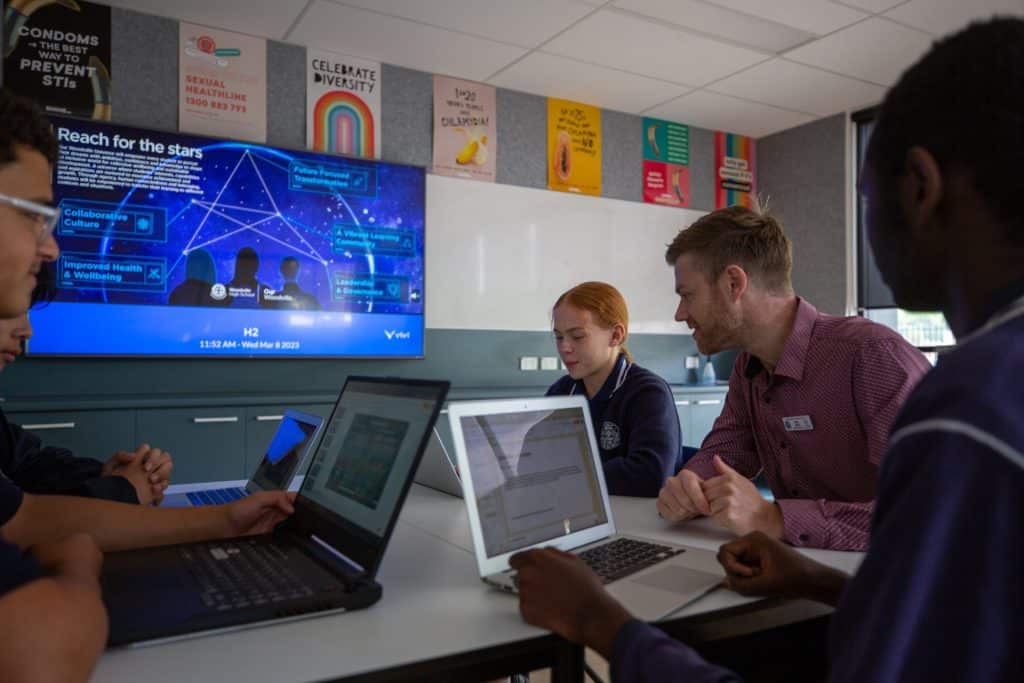 Term 2 is set to be another busy term with a large number of events and activities. The Term 2 assessment window runs from Monday 3 April (Week 10, Term 1), until Friday 23 June (Week 8, Term 2). This is also the last day of Semester 1. Snapshot Reports will be posted home in Week 5 to flag any students who are not on track to be successful in Term 2.
I have listed some of the key events below that provide us with a great opportunity to promote and celebrate the diversity in our school community this term:
Reconciliation Week – 29/5 to 2/6 (Week 5)
Reconciliation/House Whole School Assembly – Wednesday 31 May (Week 5)
Pride Week – 5/6 to 9/6 (Week 6)
Refugee Week – 19/6 to 23/6 (Week 8)
NAIDOC Week – 3/7 to 7/7 (Week 10)
Some other key dates for the term include:
King's birthday on Monday 12 June (Week 7)
Senior Years Exams (Yr10-12) (Week 7)
Throughout Term 2, we will develop our 2024 Course Handbook, which will highlight all of the curriculum offerings for next year. The book will be completed at the end of Term 2 and then released to students, staff and families to help support the course counselling process occurring in Term 3. Students in each year level will work with their Home Group teacher(s) to continue planning their future career options and then making the relevant subject selections for 2024. All Year 10 and Year 11 students will attend a Course Counselling Day in Term 3, where they will meet with a course counsellor to make their selections into our timetable. Information regarding these course counselling days will be sent home towards the end of this term.
The Assessment Committee and Reporting Committee will continue to build on the work they achieved last year to review, improve and innovate the way in which we assess and report at the school. The Assessment Committee will meet to review the current assessment task cover page and begin future proofing assessment with considerations such as the use of Artificial Intelligence. The committee will also update the Assessment & Reporting Policy which is due for renewal. The Reporting Committee will meet to plan the transition to a continuous reporting model for 2024 and review the current reporting template. The committee is seeking members of the school community to join the committee so that there is a broad range of consultation when making these very important decisions about how we report on student, learning and growth.
Over the last year, we have built a strong relationship with an external provider called 'Future Anything' who aim to engage and transform young people's passion and curiosity into innovative ideas that make their world a better place. Nicole Dyson, the CEO of Future Anything has helped us to shape our Project Nova subject for 2023, worked with our student leadership team in Week 0 and will support us to develop project based learning and engaging programs across the curriculum. Due to our strong partnership, Our Woodville has been chosen to host the Big Ideas Challenge event for South Australia on Friday 30 June (Week 9). The event is a fast-paced and hands-on day of listening, learning, and doing, culminating in teams of students pitching their own innovative solutions to a complex, local issue. Students in Years 6-12 will hear from some of Australia's most inspiring changemakers, as well as explicitly developing their enterprising thinking and human-centred design skills. We are expecting 120+ students from schools across the state to join us in our newly renovated UN2/3/4/5 conference room. This is a great opportunity to showcase our school and for our students to collaborate with others from outside the school.
A reminder that all Year 11 and 12 students have access to an online learning platform called Studiosity, which provides 24/7 tutoring the writing support. Students are able to chat live with a subject specific tutor or receive literacy feedback on their written tasks to support their learning in the SACE.
The school offers a wide range of homework centres for students to access throughout the week. A list of these and the times they are available is below:

Finally, our Student Free Day on Friday 26 May (Week 4) was hosted by UniSA and the Museum of Discovery on North Terrace. Staff were offered a suite of different workshops aimed at supporting their teaching by providing additional strategies, processes and resources to support them with their Learning Design. The day was extremely successful with lots of positive feedback from the workshops they attended.
If you have any questions about the report and would like to speak with me about any else, please send me an email: luke.smith563@schools.sa.edu.au
Luke Smith
Deputy Principal
Term 2