Principal's Report – April 2023
As the term is coming to a close, I have been amazed by the resilience of our students, staff and families in responding to change. Resilience can be defined as the capacity to recover from difficulties but for me it is more like climbing a mountain trail, without necessarily knowing the direction. It takes endurance, time, faith, patience and most importantly, support from the people that surround you. Setbacks are inevitable, but the joy of reaching the top of the mountain and celebrating together by looking back, makes the journey worthwhile.
I want to thank you all for your continued support. As a school we are clear on our 'why' and we are working towards a positive collaborative culture where parents, staff and students are being valued, heard and visible in the decision making across all operations of the school. I am committed to creating opportunities for teachers, students, parents, and other members of the school community to become leaders and decision makers as we work together to build on the culture of our school that is based on coherence, collaboration, shared leadership and decision making. Our school committees, the new student leadership structure, clarity in communication, EMS and new Learner Management System FROG, development of new policies, the valuing of diverse voices and perspectives and implementation of staff, student and parent feedback to inform our improvement agenda is a reflection of our commitment to build a collaborative culture at Woodville High School. This is one of the Constellations in our Strategic LaunchPad that will continue to remain a focus for our new Strategic Plan. The new Strategic Plan will be developed and owned by all stakeholders.
Our Strategic Plan will ensure that we continue to be at the forefront of educational research, that we are innovative in our thinking, that our teachers are experts in their fields, and that our School facilities are tailored to deliver optimal learning experiences.
I am delighted to announce that the following people will be joining me to represent Our Woodville on the Strategic Plan Co-Design Team:
Staff
Natalia Bajcic – Arts Lead Teacher
Jordan Della Pietra – Science & STEM Coordinator
Sharon Miels – Business Manager
Molly Place – SSO
Luke Smith – Deputy Principal
Rebecca Sykes – Arts Coordinator
Anthony Terminelli – ICT Coordinator
Parents/Caregivers
Tania Brice
Tracie McLennan
Old scholars
Lieutenant Colonel Aaron P. Jackson, PhD
Sudarshan Kabbinahittalu
Students
Natasha Barker (Senior Deputy Prefect)
Dylan Foote (Senior Head Prefect)
I look forward to working with such a diverse co-design group. This is an exciting period of growth and development for Woodville High School and we look forward to sharing this journey with our broader community past, present, and future.
FROG Student and Parent Dashboard/Community Portal
We began 2023 introducing a new Learner Management System (LMS) FROG to our students. Staff spent considerable time in 2022 building engaging, interactive curriculum units that would replace our existing DayMap program. Whilst we are still learning the entire capabilities of the FROG LMS, staff and students have embraced the change and are tackling challenges as they arise.
A small group of community members have been trialling access to the Community Portal and the usability of the FROG Parent Dashboard, providing feedback and suggestions that were actioned before the whole school community were invited to join. We would like to offer our sincerest thank you for the opportunity to work and collaborate with families on the FROG LMS as this has now gone live.
Mobile Phone Government Ban
All families would have received via email an information letter and a copy of the Woodville High School Mobile Phone Policy outlining the Mobile phone ban that comes into effect in Term 2 Day 1. The policy has been uploaded to our website.

If you have any questions or require any clarification on the mobile phone ban, please do not hesitate to contact the school.
Acquaintance Evenings
In Weeks 3 and 4 of this term we held our Middle and Senior Years Acquaintance Evenings. The staff that committed their time to forging partnerships with parents/caregivers to ensure the students are supported in shaping their academic pathway and in the formation of their wellbeing. This is the last year that the acquaintance evenings will be in this format as we move to a House Structure. Parent engagement is an area of focus for 2023 and as a school we will look at ways to engage families in the learning and wellbeing of their child. Families are currently represented in all our committees and with the new governing council, I am confident that we can build a culture of high performance with a culture of high care.
Student Leadership
Our Prefects and Captains have been busy implementing programs and opportunities developed during their leadership training with Nicole Dyson earlier in the year. Each portfolio is now supported by an Executive member who provides support and guidance when required.
Our student leaders have been busy in the local community with our Year 12 Captains and Head/Deputy Prefects attending the recent Student Leadership summit at St Peter's College. They also attended the International Women's Day breakfast with over 3000 other people on Friday 10 March, hearing from Penny Wong and American Ambassador, Caroline Kennedy. Our newly appointed House Captains attended the SA Leadership Forum with our Middle Years Head and Deputy Prefects and the Music Captains have been busy supporting the Taste of High School program and music tours to our local partner schools.
During the Term 1 Week 7 assembly, our Prefects and Captains were formally introduced to the whole school community, receiving their leadership badge from the Principal.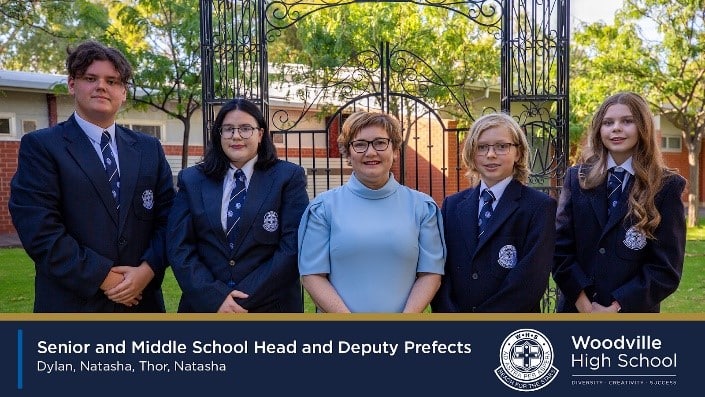 Student Leaders in the Community
On Friday 10 March some of our Student Leadership team were invited to attend the St Peters Leadership Forum held at St. Peters College. The forum gave our student leaders an opportunity to participate in a number of activities aligned to developing leadership capabilities and projects.
International Women's Day
International Women's Day is celebrated around the world. It is a day when all women are recognised for their achievements and we celebrate the social, economic, cultural and political achievements of women globally. It is 2023 and yet gender inequality remains entrenched in Australia so the day marks a call to action for accelerating gender equality and acknowledges the strength that lies within the next generation of women.
Our Woodville staff were invited to the Livestream of the 2023 Adelaide International Women's Day Breakfast on Friday 10 March and a number of our Student Leaders attended the live event with me which was held at the Adelaide Convention Centre.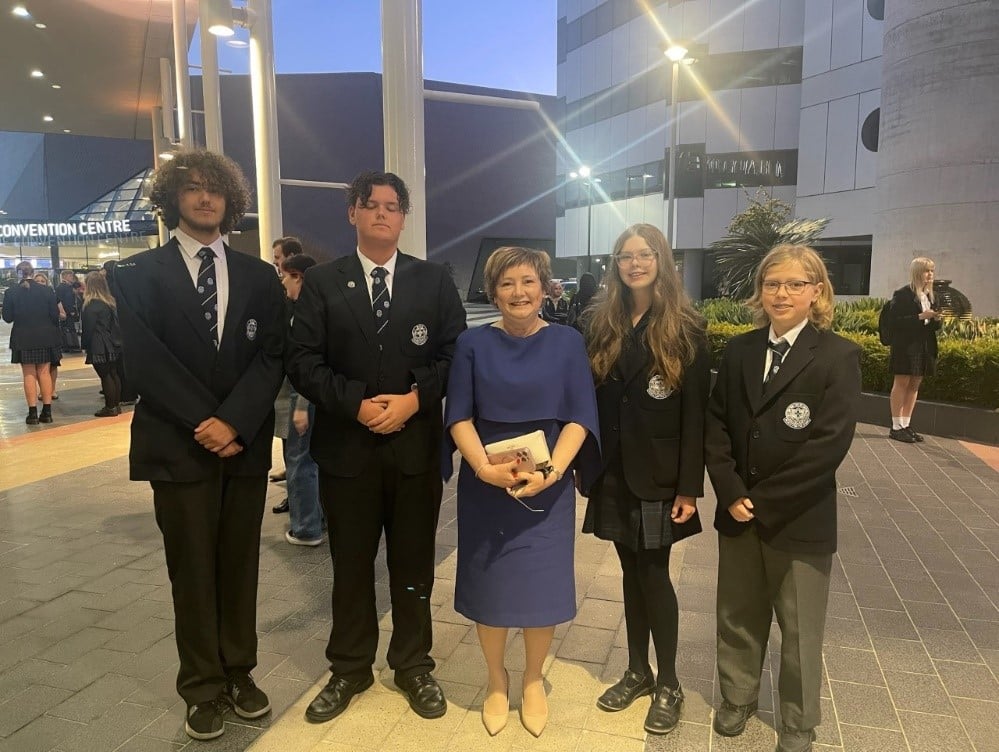 Harmony Day
On Wednesday of week 8, we celebrated Harmony Day. Harmony Day is a celebration of our diversity regardless of gender, race, ethnicity or religion. The day promotes inclusiveness and respect as well as a sense of belonging and community. The community we have at Our Woodville consists of over 74 language groups, making our schoolyard one of the most diverse in South Australia. We value this diversity, and are deeply aware of the need for respect between the different cultures that make up Our Woodville community. We acknowledge that diversity as a fact, inclusion as an action and belonging as the outcome. Deep discussions will take place across every year level to unpack what it means to belong and how each one of us is able to play a role in making sure that everybody belongs. Our Woodville's cultural diversity is one of our greatest strengths and it is what makes us who we are. Harmony Day really does encapsulate what it means to embrace the Woodville High School values of Diversity, Creativity and Success. The day was captured on video and this will be released shortly.
Open Night
Open Night in week 8 was a wonderful opportunity to experience and celebrate the diverse and vibrant school community in action. Visitors observed and interacted with the staff and students in our creative learning environment. Our students showed confidence and leadership and created a strong sense of welcome to our current and prospective families.
Thank you to all staff and Students for their incredible work to prepare for Open Day and in particular Sam Tuffnell and Milena Popov who coordinated this significant event.
To continue to improve this evening where we welcome family and friends to an evening where they can experience the richness of community and participate in a tour; where our students, with pride, showcase the many opportunities the school has to offer from Year 7 to 12, I invite families to provide me with feedback here:
Ernabella Anangu School Visit
VIDEO Link
On Friday 24 March we had the privilege of welcoming staff and students from the Ernabella Anangu School. Ernabella is one of ten Anangu schools situated in the far northwest corner of South Australia in the Pitjantjatjara Yankunytjatjara Lands.
The purpose of the gathering was to acknowledge the 30 years of learning and cultural knowledge that Wiltja Anangu School students shared with Woodville High School students and staff from 1990 to 2020. We remember Wiltja by the naming of the Ninti Courtyard, which means smart in Pitjantjatjara and have mounted a commemorative plaque in the courtyard which was unveiled by The Honorable Joe Szakacs MP Member for Cheltenham, Minister for Police, Emergency Services and Correctional Services together with the Woodville High School ATSI Head Prefect for 2023, Jashaya.
Robert Taylor from Kuma Kaaru Cultural Service performed a Welcomed to Country at the unveiling ceremony.
We were also joined by Tjinkuma Wells, an accomplished artist who is also from Ernabella. Tjinkuma created the artwork that can be seen on the windows in N19 and N20 and was also a long-time staff member of Wiltja at Woodville High School, working as an Anangu Educator. Tjinkuma was joined by some of the Wiltja old scholars.
Irabinna Centre Mural
Our Woodville is incredibly proud to present this brand new mural by Thomas Readett Visual Arts on the Irabinna centre.
Thomas Readett is an Established Artist and a Ngarrindjeri man who was born and raised in Kaurna Country (Adelaide, SA) where he continues to practise and live. Thomas' practice spans drawing, painting, video, music, advocacy and education. This mural was created with the theme of Irabinna (Warrior) to represent the Irabinna Centre on which it resides.
Thomas has this to say about his artwork: "When Woodville High School Principal, Anna Mirasgentis and Aboriginal Education Coordinator, Bronan Economou with the Nunga Team engaged me for this mural I was excited to work with the Aboriginal and Torres Strait Islander students to create something special for their space. During a workshop, students shared their ideas and drawings with me and I was inspired by their ideas and created this composition for the school. The composition sees a visual relationship between the Red Kangaroo and the male figure warrior, both poses speak to each other to tell the story of how the Warrior holds themselves, no matter human or animal. These poses dynamically cast outwards across the two backgrounds representing land and sky. This mural underpins the elements of our Country that keep us strong."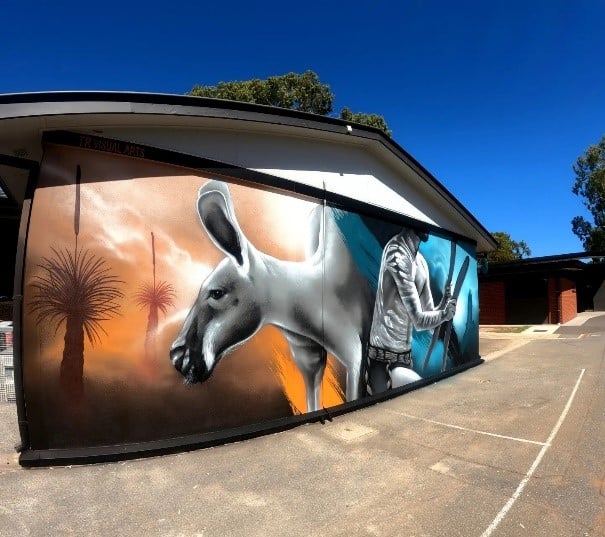 I wish all the Families, Staff and Students of this vibrant community a wonderful holiday and hope it brings renewal of spirit and many special memories with family and friends. This opportunity for rest and recuperation, alongside our loved ones, will hopefully serve as a time for us to reflect on life with gratitude. No matter our beliefs or faith as a community, let us maintain optimism, compassion and hope for the future. I look forward to working with all members of our community to create a school of excellence, equity and choice.
I would like to wish all staff, students and families all the very best. I am confident it will be an enjoyable and successful year ahead for all.