The 2022 Braiding Project event was held this term on the 8th of September. 120 Woodville High School students participated as well as 9 students from our local Primary Schools. This year's theme as driven by student feedback was 'Belonging'.
The Braiding Project has been running at WHS for over 10 years now. The aim of the project is to develop and deepen intercultural understanding, provide an opportunity to appreciate different perspectives and world-views, interact successfully and respectfully with others, and take responsible action to build a more just, peaceful and inclusive school. Building intercultural capabilities is essential to ensuring a vibrant and prosperous community in which everyone is welcomed, feels safe and is supported to participate.
The day promoted shared leadership and responsibility and a genuine partnership that promotes a sense of belonging, participation and community. Thank you to everyone that took part in the day to help Our Woodville students understand and respect the differences in peoples' beliefs and values based on the super-diversity represented across the school.
A significant highlight of the day was the panel discussion where students had the opportunity to ask questions of our diverse group of community panelists about belonging and experiences of belonging. Students commented that they felt privileged to share the stories and experiences of others.
The day produced a collective statement of belonging for Woodville High School, which reads:
"At our Woodville belonging means safety, respecting traditions, diversity, and acceptance. We value kindness, correct representation and supporting all. We understand that it is never about belonging to someone, it is about belonging somewhere."
Students also worked to present this visually in the following word braid: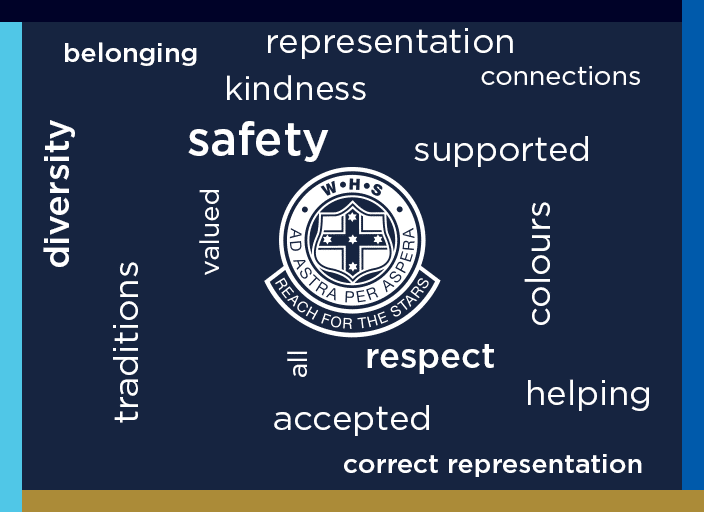 All participants indicated they would like to be a part of next year's event. Future plans include broadening involvement to more members of or wider school community.